Pvilub Solar Street Light 5000K- HACO Series
$122.00
Regular price
$153.00
All Free Shipping. No Extra Taxes.
☎ BUILT FOR OFF-GRID LIGHTING – HACO series LED solar street light can provide up to 3 full nights of lighting on a single full charge. No need to rewire in your property and cost you Zero electricity bill. This outdoor solar light is perfect for off-grid area, such as front/back yard, drive way, etc.
☎ CAR-GRADE NEW BATTERY Equipped with the original car-grade 77WH(24Ah/3.2V) battery pack and battery management system for overcharge protection, over-discharge protection, LED solar street lights ensure the long-time working and safe operation. The premium new battery features a long lifespan, remaining 84% capacity after 7-year use, which meets the international safety standard and certified with UN38.3, UL1642 & MDS.
☎ MORE SOLAR CHIPS To ensure fast battery charge, this solar street light outdoor is equipped with 30watts full power solar panel. With more solar chips and up to 80% effective silicone area, the battery can be fully charged in 6 hours under midday sunlight and even gradually charged on cloudy/rainy days.
☎ 5-MINUTE INSTALLATION & NO WIRING You can use the remote controller to turn on/off, enable/disable the motion sensor, and set timers. The solar powered street lights provide flexible usage according to different applications and it features a dust-to-dawn function. Comes with 2*AAA battery for remote control, a 20inch pole arm and mounting hardware for wall or pole mounting. No need to prewire for your property.
☎ BUY WITH CONFIDENCE Over 10,000 customer's choice in the country. The dusk to dawn solar street lights outdoor offer it's customers a 24-month warranty! We will deliver a new light to you if any defects in 1 year.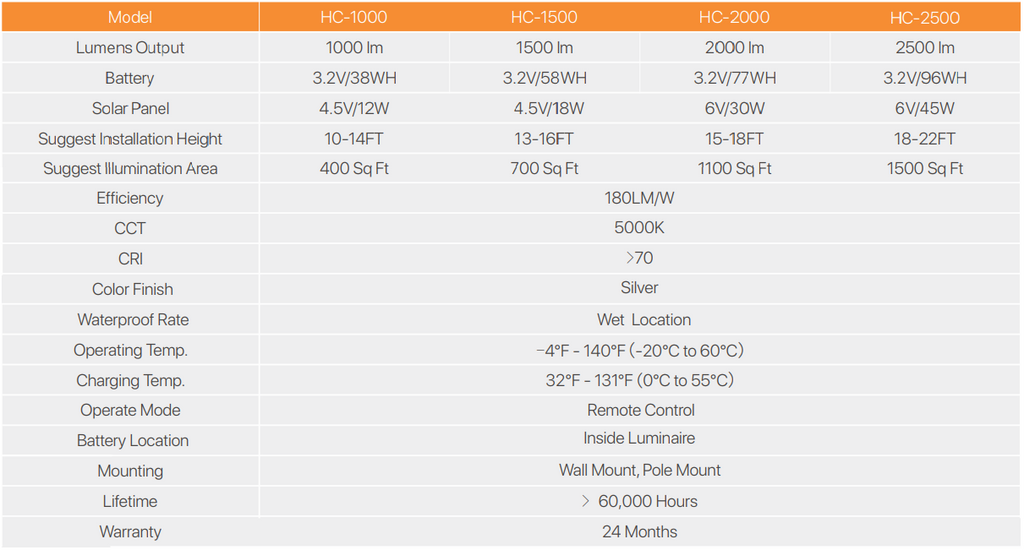 We are willing to help electricians or DIYers with lighting solutions. Just provide us with the length, width, and height of the facility and your requirements for illumination, we will provide the lighting layout to you for free.
 Lighting Projects Share
WARRANTY:
Subject to the terms and conditions specified in this Limited Warranty, Hyperlite Lighting, is a business of High Bay Company, warrants that lights purchased directly from Hyperlite will be free from defects in material and workmanship until the earlier of five years from the date of manufacture, and 50,000 hours of operation.
REMEDY:
Please note that products with different warranty periods provide different warranty services and warranty time.
1.The products can be returned within 30 days from the date of receipt, but please also ensure the integrity of the products and the return will not affect their secondary sales. The used or installed products can't be returned due to non-quality problems (dislike or no longer need). If there is any objection, please contact the seller;
2. If the malfunction or damage of the products is caused by transportation, the buyer needs to contact us and provide evidence (video & pictures) within 15 days from the date of receiving. Providing the buyer fails to do so or no longer replies to us within 15 days after contact, the buyer will be responsible for any loss.
3.If there are any quality problems over 30 days from the date of receipt, please contact HYPERLITE for a warranty with photos or videos showing product problems and HYPERLITE will help you solve this problem. Buyers can choose to obtain new lights, but the corresponding costs need to be borne by the buyer. Please refer to the following for the cost of obtaining new lights.
TERMS AND CONDITIONS:  

This Limited Warranty is VOID in these situations:
If purchaser or the user fails to comply with recommendations of Hyperlite;
If any components are replaced with component of other manufacturers; If the product is operated outside the specified electrical values or is subject to abnormal use or stress, including under/over voltage conditions, excessive switching cycles, and operation in environmental conditions (e.g., ambient temperature) outside normal specified operating range. 
DISCLAIMER
Please pay attention to the working temperature of light fixture. If the temperature that exceeds the usage limit of light fixture due to natural or  man-made  reasons causes the damge of light fixture, the warranty policy won't cover the lost.
HOW TO MAKE A WARRANTY CLAIM:
Hyperlite Company issues a Return Material Authorization (RMA) for all requests for warranty review.  To make a warranty claim, retain the failed Products and notify your Hyperlite sales or customer service representative in writing within thirty (30) days of the failure.  After contacting Hyperlite and receiving an RMA number, Purchaser shall promptly return the Product after receiving instructions regarding if, when, and where to ship the Product. The Product must be returned within 10 days of receiving RMA number, and the shipping box must be clearly marked with RMA number.  Failure to follow this procedure shall void this Limited Warranty. Hyperlite reserves the right to examine all failed Product to determine the cause of failure and patterns of usage and shall be the sole judge as to whether any Product is defective and covered under this Limited Warranty.
RETURN:
1. Contact customer support via email: service@hi-hyperlite.com
2. Ship items back to the address provided by our support team.

Note:
All returns must happen within 30 days of the receipt of that product or Hi-hyperlite.com has the right to refuse the return.
Guidelines for items conditional return:
∮ Item must be in original packaging
∮ Item must not have been installed or used
∮ Packaging material (i.e. wrapping, clam shells) must not have been destroyed or broken
∮ 
Please note that we randomly select logistics providers and are unable to accommodate requests for specific ones. Any delays caused by the shipping company are out of our responsibility and we can not compensate for any resulting expenses. We will do our best to assist you in resolving any issues that arise.